Atlanta has long been a foodie destination for southern fried delicacies, but now the food revolution has hit the city hard. What once was a place to get the best-fried chicken collectively in the world is now cranking out upscale food. An influx of high-end culinary masters has transformed this southern city into a food lover's paradise.
Staplehouse
Leading the pack is the new kid on the block, Staplehouse, Bon Appetites pick for America's Best New restaurant. The American eatery is a non-profit set up by the family of late chef Ryan Hidinger, who past away in 2014 from Cancer. All profits go to Giving Kitchen, a charity set up by the wife of Hidinger, which supports food workers in need.
Head chef Ryan Smith cooks up the fancy farm-to-table cuisine using every useable part of the animal. Culinary daredevils like chef Smith are bringing in a new, yet old way of being sustainable. They are nose-to-tail chefs, celebrating all parts of an animal and teaching people about true sustainability.
Staplehouse is booked solid for many reasons, people enjoy eating at a restaurant that is giving back to the people that break their backs for our culinary enjoyment.
Staplehouse is located at 541 Edgewood Ave, SE, Atlanta GA. Reservations open up mid month and fill up fast, so if you want to eat a great meal while giving back to the community, Staplehouse is your choice.
Ponce City Market
City centered dining markets are springing back up all over the country, giving downtown diners more options in a smaller footprint. Much like L.A.'s Grand Central Market, Atlanta's Ponce City Market gives diners more choices and an opportunity to taste cuisine form all over the globe. Food Markets like these used to be very popular and for some reason became unfavorable for a while, but the recent resurgence has open up many people's minds about culinary adventures.
Ponce City Market is a literal who's who of Atlanta's top chefs and a culinary tour of the city. Within feet you can sample ramen, Cuban sandwiches, fresh pasta and some of Atlanta's best-fried chicken. If you are only in town for one night, Ponce City Market in Midtown should be your food stop.
Ponce City Market is located at 675 Ponce de Leon Ave NE, Atlanta, GA. No reservations needed and seating is first come first served.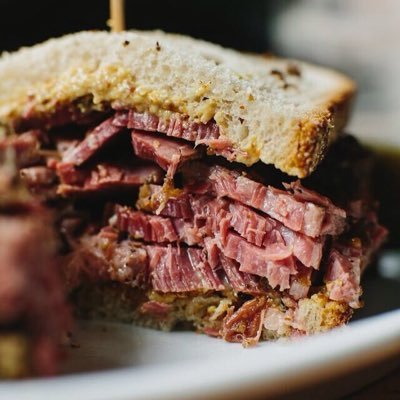 The General Muir
Atlanta truly is a big city now that they have an authentic Jewish New York deli. New York is obviously the Mecca of delis and the all important pastrami sandwich, which if you haven't had, then my only question is… why do you hate yourself? The General Muir is a deli that relies heavily on seasonal favorites, but you can always grab an all time favorites like the Reuben sandwich or bagels and lox.
Don't be afraid, that huge pastrami sammie can and will fit in your mouth. If you are anywhere near Emory University, I high holy holiday recommend you stop by The General Muir. If you are in search of a Jewish High Holy meal, you are in luck; The General Muir has a full holiday menu.
The General Muir is located at 154o Avenue Place Suite B-230, Atlanta, GA. No reservations accepted but there will most likely be a line that moves quickly.
Hop on down to Hotlanta and dine on their new culinary finds, and while you are there you can sample some of the fantastic southern classics like fried chicken.